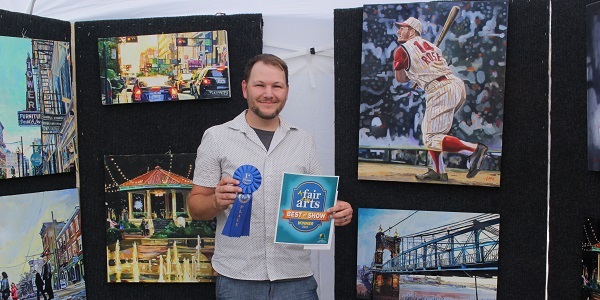 2019 A Fair of the Arts Best of Show winner pictured above.
Saturday, Sept. 19, 11 a.m.-4 p.m. (Cancelled)
Update posted: 7-27-2020
Due to a combination of variables, including a lack of interest from artists, we have made the difficult decision to cancel our 2020 A Fair of the Arts. Ultimately, we can only run an event in which we are confident we can keep our artists, staff, and park visitors safe.
We continue to comply with Ohio Governor DeWine, the Center for Disease Control and Prevention and the Hamilton County Health Commissioner's recommendations to help prevent the further spread of COVID-19. Within the past couple weeks, a new Ohio Health Advisory System lists Hamilton County at level 3. The recommendation at level 3 is to limit activities as much as possible to prevent exposure and spread. Additionally, restrictions on large gatherings remain in place.
Questions? (513) 388-4513