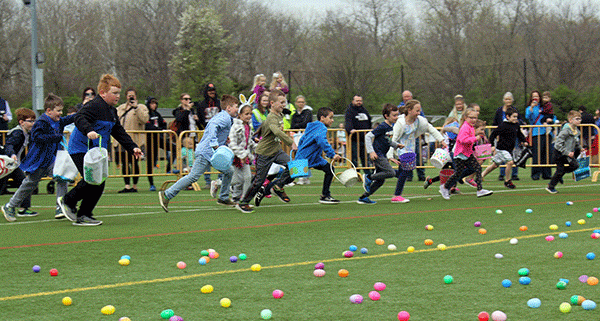 ages 0-10 years
Saturday, April 8, Hunts start at 9:30 a.m.

 
Pre-Registration was required. Event is SOLD OUT! 
Join Mr. Bunny at the Anderson Parks Annual Egg Hunt! Pre-register online for a specific egg hunt time (one hunt per child). A maximum number of tickets will be sold for each hunt. Registration closes on Friday, April 7 at noon or when the event sells out. This is a pet-free event. Register in advance; space will be limited.
Age Groups & Details
Parents with young 3 year olds can choose which hunt style is more appropriate for their child.
For all hunts, eggs found are returned for a goody bag.
Ages 0–3: Children look for eggs at their own pace during their hunt reservation. All are welcome in this relaxed hunt area. The format is leisurely, so relax and remember your camera!
Age Group
Price
Egg Hunt Times

Ages 0-3

$3 per child

9:30 a.m. FULL

/

9:50 a.m. FULL

/

10:10 a.m. FULL

/

10:30 a.m. FULL

/

10:50 a.m. FULL

/

11:10 a.m. FULL

/

11:30 a.m. FULL

/

11:50 a.m. FULL
Ages 3–4, 5–7, 8–10: Hunt times are staggered according to specific age groups. Children race independently in these mass-start races to find as many eggs as possible. (Parents may view from the sidelines.) Time slots for each age group are listed below. *If a 3 year old is NOT ready to line up and race independently, register on the 0-3 hunt area!
Age Group
Price
Egg Hunt Times
Ages 3

*

-4

$5 per child

9:30 a.m. FULL

/

10:15 a.m. FULL

/

11 a.m. FULL

/

11:45 a.m. FULL

Ages 5-7

$5 per child

9:45 a.m. FULL

/

10:30 a.m. FULL

/

11:15 a.m. FULL

/

12 p.m. FULL

Ages 8-10

$5 per child

10 a.m. FULL

/

10:45 a.m. FULL

/

11:30 a.m. FULL
Questions? (513) 388-5082
Sponsored By: