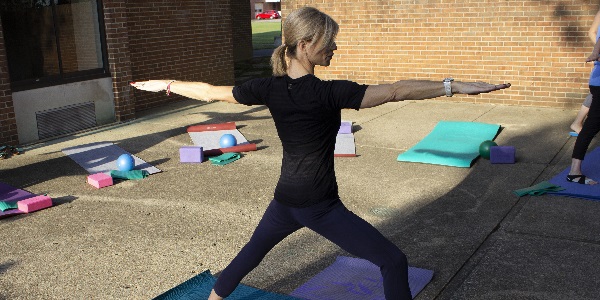 age 18 years and up
Thursday, July 22, 9-10:15 a.m.
Building on the foundation of Yoga Care, this next level of yoga is designed with the option to move at a slightly more advanced pace. Flexibility, range of motion and breathing techniques will be a focal point. Additional poses will be introduced to enhance yoga skills and body awareness. This outdoor class is taught by Cheri Dean, a Yoga instructor with 14 years of experience who's also trained in Pilates Mat and Melt Hand and Foot. Participants should wear comfortable clothes and bring a water bottle. Props will not be provided. Please bring a yoga mat, block, strap/band and towel long enough to fold a couple times. Register in advance; space is limited. 
Important Notice: For the safety of our summer campers and staff unable to get vaccinated, masks and social distancing practices still apply at the Anderson Parks RecPlex. Masks are required in the RecPlex office, hallways, restrooms and when social distancing cannot be maintained. Masks may be removed once a participant reaches their designated spot at their activity.
Questions? (513) 388-4513
Registration: Class is Full.