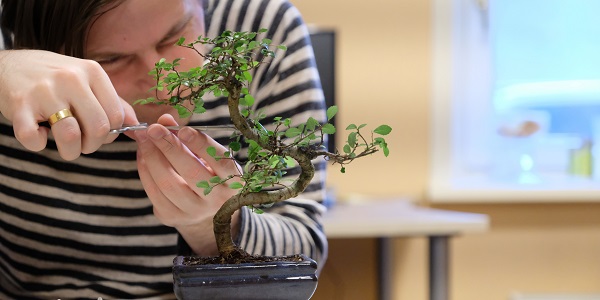 age 18 years and up
Wednesday, September 16, 6:30-8 p.m.
Discover the fascinating and living art of bonsai. Dave Radlinski from the Bonsai Society of Greater Cincinnati will demonstrate and teach introductory pruning and design techniques. See several of Dave's trees and learn how to care for bonsai trees. One lucky participant will take home the demonstration tree! Pets are not permitted.
This class will be presented in two formats simultaneously: in-person class and as a Zoom presentation. All participants will be entered into the drawing for the demonstration tree. Zoom participants will receive the class link and login information by email on September 15.
Register in advance; space will be limited in accordance with COVID-19 safety guidelines on social distancing. Participants should wear a mask when coming and going from their activity or when social distancing can not be maintained.
Prices: In Class: $15 per resident; $20 per non-resident / Zoom Class: $5 per resident; $10 non-resident
Questions? (513) 474-0003
Registration: Class is Cancelled.