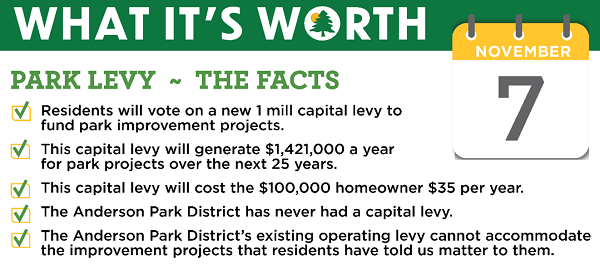 Saturday, September 23, 10 a.m. – noon
Anderson Township voters will soon make a decision about the future of their Anderson Parks. Visit our capital levy page to learn about the levy and the improvement projects planned. The Anderson Park District is hosting Open Houses at the Juilfs Park Office (8249 Clough Pike, Cincinnati, OH 45244) to discuss and/or answer questions about the levy:
Thursday, September 7, 9 a.m.-noon
Saturday, September 23, 10 a.m.-noon
Tuesday, September 26, 6-8 p.m.
If you have questions but are are not able to attend an open house, please contact Ken Kushner, Executive Director, (513) 388-2492 or KKushner@AndersonParks.com.