Adult Egg Hunts
April 9 @ 7:00 pm
$5 per person, per hunt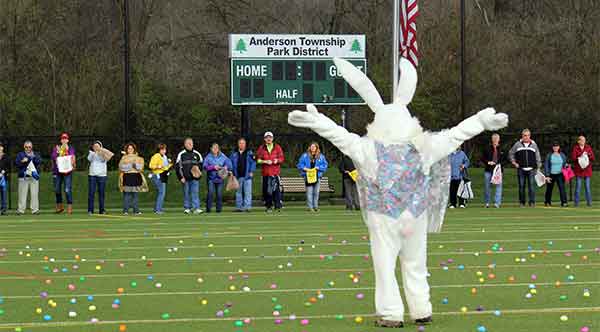 age 18 years and up
Thursday, April 9, 7 p.m. 

*** As of 3-18-20, Anderson Park District's Adult Egg Hunts have been cancelled. *** 
Registration Deadline: April 9 at 10 a.m. (event may sell out before this deadline)
Four egg hunts feature a mass start where participants gather as many eggs as possible. Redeem "special" eggs on-site for prizes. Registrations accepted first-come, first-served and space is limited. Metal cleats and pets are not permitted. Not recommended for children to attend.
Cost: $5 per person, per hunt
First hunt starts at 7 p.m.
– Hunt #1: Golden Hunt (age 50 years and up)
– Hunt #2: Gen Eggsters (ages 35-49 years old)
– Hunt #3: Millennial Mad Dash (ages 18-34 years old)
– Hunt #4: Adult Egg Scramble (age 18 years and up)
Event check-in: 6-6:45 p.m. Check-in cut-off is firm. Proper identification and registration confirmation required at check-in.
Weather: Event is rain or shine (delays for lightning)
Questions, to donate prizes or volunteer? (513) 388-4513
Registration: Suspended
Sponsored by